Every Wednesday, I will be linking up to "Works for me Wednesday" over at
http://wearethatfamily.com/
. Go check out all of the amazing mom tips, you might just learn something super cool!! She also has an awesome giveaway going on, so check it out!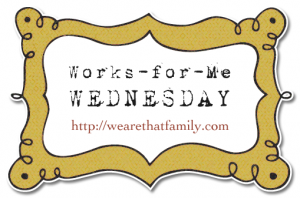 Have you ever been awoken out of a joyful slumber by the cries of a sick baby, a potty training toddler, or simply a diaper malfunction (the kids not yours)? I have! I always stumble into their rooms and then get the kids cleaned up and then try to make their bed and clean up any mess without waking the rest of the house. I don't know about you, but I am just NOT my best at those crazy hours in the middle of the night.
Luckily, I came across a VERY clever solution to this while reading some tips on my Birth Board (love you Yuku ladies!!). Now, I simply make my 3 yr old daughters bed as follows; mattress protector, fitted sheet, another mattress protector, another fitted sheet, and then the rest of the normal bedding. It is genius really, I mean I wish I would have learned about it long ago. Now, whenever either of my kids wakes up because of a tummy bug, an accident for my 3 yr old, or a diaper malfunction for my baby boy, I simply clean the kid up, grab the top fitted sheet and mattress protector, throw all soiled clothes and bedding into the garage, tuck the little darling back into bed, and go back to sleep. The night is much too short to be re-making a bed and doing laundry at such un-Godly hours. This mama NEEDS that sleep.
LOVE it! and it WORKS for me!!!