I am linking up with "Works-for-me wednesday" over at
http://wearethatfamily.com/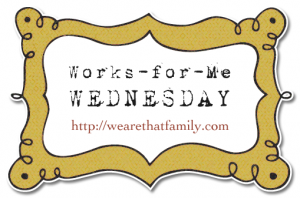 After following a strict budget and using and envelope system for almost everything, we have managed to become debt free in the sense that we no longer charge our expenses. If we
want
it, we try to save for it and pay with cash. If we
need
it, we pay out of our emergency savings, but most everyday things; groceries, gas, Dr. apts, eating out and regular bills are paid with cash or our checking account.
This is all fine and dandy and it works really well for our current financial situation, but we still have very little leftover to spend on extras that are NOT budgeted for. In the past few years around August or September, we would sit down and budget our very modest Christmas budget. I have done well with it and managed to chase sales, bargain shop, and most importantly shop the awesome Amazon sales!
This year I want to do something different, I want to pay for Christmas strictly with gift cards, points, coin jars and "extra" income not part of our regular finances. There are several ways I plan to make this happen, and I know you can too! Today I will just blab about two that I am already doing...yup in March!
1.
Swagbucks: sign up for Swagbucks and do your regular everyday online searching through their site. Every time you search you get a chance to win points and then the points can be turned in for gift cards. Target and Amazon gift cards are what happen to be at the top of my list, but there are several other options for redeeming points, ranging from gift cards to merchandise. It is super easy! I added the toolbar to my computer from their site and make sure I am always signed in. I kid you not, I win points every single day and have already made enough for a $25 gift card in just one month. Go ahead and check it out!!
use this
link and you can sign up and earn some free bucks now!!! Also, you can add a banner to your blog or your facebook and have people sign up and you will earn a ton of swagbucks that way.
2.
My own mini- business which is really (Mama's girl time). A friend of mine told me all about Vault Denim and got me hooked, her family has partial ownership in the business so I knew that it was legit. I love it because it is the easiest most fun money I have ever earned, I mean who doesn't love to shop? Denim parties are a simple success because there are so many people out there who buy these same designer jeans from department stores, but we offer them at a fraction of the price! How you ask??? Well, vault buys all of their denim straight from the vendors overstock. They have worked for years to develop professional relationships with these high end vendors so that we can bring designer jeans straight to your doorstep! Yes, there are many denim party type business out there who bring you seconds, damaged, or imitation jeans, but we are not one of them. These are 100% Authentic and real designer jeans. I plan to save all of my income from my parties and save it for Christmas.
If you think you would like to sell designer jeans and become a Vault Denim fashion consultant, comment here or send me and email. I would be more than happy to sponsor you and give you any information to get you on the road to making some extra cash, while hanging with the ladies:) Best part about Vault is that there are no costly start up fees and you don't have to pay for your inventory, you simply check it out for a day or two, have your party, and return what you don't sale!!!
Anyway, I have a few more frugal Christmas tips to share later down the road, but I just wanted to remind everyone that Christmas is only 9 months away, so why not start some sort of savings or extra income plan now!! I can't tell you how awesome it feels to start off the New Year after Christmas, knowing that everything that was gifted is paid for in full. No credit bills or interest!
So what about you? Do you have any awesome saving tips for the Holidays?